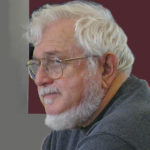 Professor emeritus – Texas Tech University
3209 – 45th St./ Lubbock, TX 79413;  E-mail: Lyntellie@Yahoo.com
Phone – 806-792-7930
Artist's Statement
I am a narrative artist. I speak to a variety of ideas and issues that I feel are important.  My prints and drawings are often vignettes which describe or interpret what could be described as a moment related to the human condition.  The human condition, I have found, is often greatly enhanced by the influence of the animals in our lives.  I seek to strike a familiar chord in some viewers who might think, "I never saw things quite that way, but I think I may have been there or experienced something very similar".

Biography
BFA – University of Texas at Austin
MFA – University of Texas at Austin ( Printmaking)
10 books contain major articles by or about the artist or reproductions of his work.  The list includes The Complete Printmaker by John Ross and Clare Romano, and Lynwood Kreneck – Printmaker, published by Texas Tech University Press, which features 100 full color reproductions of his art.
As a visiting artist, Kreneck has visited over 80 universities and colleges here and abroad.  He has been included in over 200 national and international invitational and juried exhibitions with over 40 prizes and honors.  Kreneck has taught and demonstrated the results of his research in Waterbase  Screenprinting at the invitation of more than 50 colleges and universities in this country as well as in New Zealand, Germany, Ireland, China and Belgium.
Kreneck is represented in over 60 museum and university collections including: US State Department- Art in Embassies program, Washington, DC; Art Institute of Chicago, Il;  High Museum, Atlanta. GA;  the Philadelphia Museum of Art;  the San Diego Museum of Art;  the Royal Museum of Antwerp, Belgium; and The Biblioteque Nationale, Paris, France
Lynwood Kreneck is the founder and Director of Colorprint USA, a national print exhibition.
He has judged several mixed media shows as well as national printmaking exhibitions. Including National Works on Paper, Oklahoma State University, Stillwater, OK; the  32nd Bradley International Print and Drawing Competition, Peoria, Ill. and Arts Now! in Bangor Ireland
In 2006, Lynwood Kreneck received the lifetime achievement award for Excellence In Teaching Printmaking at the Southern Graphics International Conference in Madison, WI.  In 2015 He received a top prize in the Society of Graphic Artists centennial exhibition in New York City,